Hello everyone!
As the title suggests, I am a bit annoyed...
This isn't fitness related (well kinda), but I am really hating the US Postal Service right now.
The Hard Candy place sent me a tracking number to track my DVDs as they were shipped. The USPS has no record of it. SO ANNOYING.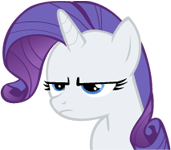 Artist's rendition of my expression every time I check the damn package,
I am big on tracking all packages so I know when to expect them.
I ordered the day after the DVDs became available, friends of mine who ordered the first day as far as Florida received theirs today.
Will it come tomorrow? The next day? God only knows...