Hello everyone!
Yesterday I was shopping at Target for some new workout shirts and bras and wandered into their grocery section.
I ended up in the soup aisle and it occurred to me to look for this baked potato soup mix a friend of mine said was very good. I found the said soup (Archer Farms Baked Potato Soup) but to my dismay... It's made with wheat flour as a thickener. No good!
All was not lost, though. Right underneath those soup mixes were soup mixes made by a brand called Bear Creek. They had Cheddar Broccoli, Cheddar Potato, and Creamy Potato. 3.99 a bag (for 8 servings) and I got one of each.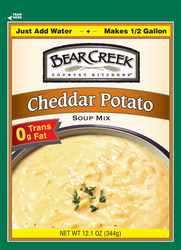 So far I did try the Cheddar Broccoli- VERY good! Considering that all you have to add is water and cook it for 10 minutes, the cheese flavor is very rich and delicious! Also, for one cup of a creamy soup, 170 calories (180 per cup of the potato ones) isn't too bad when had with a salad too.
You can get Bear Creek soup on Amazon.com, Target, and perhaps your local supermarket too.
According to celiac-disease.com, 9 of 14 of their flavors are gluten free. They are not labeled as such, but they are.
For more information about the gluten free-ness of Bear Creek soup, visit here: http://celiac-disease.com/gluten-free-soup-mixes-from-bear-creek/