Hello everyone!
Today was my fifth day and it didn't go perfectly at all.

I feel like I ate too much, as I had eaten more calories than I'd have liked to. This led to a serious argument between my brain and I.
My brain with its usual habits was trying to tell me that since I didn't eat perfectly, why bother working out? Just relax. Fuck it. You screwed up. It's all over now. My conscience thought the opposite: So what if you ate a little more? That workout needs to be done.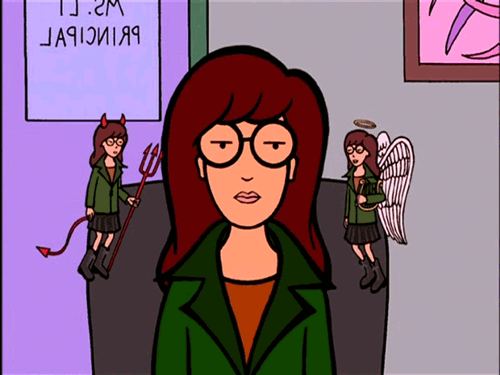 Devil: You don't have to work out today, you failure.
Angel: Get on that mat, missy.

Who won? Surprisingly, the angel. I did my workout. I did it all. But... It sucked horribly. I felt like my skeleton was made of lead again and I could only do a few reps of the MS work before vomiting in my mouth a little. Literally. But, I did my best anyway. It wasn't great but it was my best today.

Tomorrow is Day 6- then the long awaited rest day!

Also as for the diet, I think I am going to start loosely following Tracy's Dynamic Eating Plan. I don't trust myself yet and I want results.

No purees or any of that nonsense but the solid food weeks, I think those are generally doable and I already have the ingredients at home.
Dynamic Eating Plan
The body reset weeks are very doable, I already have all the stuff (for dinner I would have tofu and a salad instead of whatever, as I said LOOSELY following, and I do have Think Thins laying around.)


So, I'll start adhering more to her style of eating and see if it helps. I do wish I could start drinking her shake but it's way too expensive at the moment. 120 dollars a month... That's a bit much for me yet.


Any of you experience nausea while working out with TAM?

Hope you have a great weekend, see you tomorrow!